Process / Inspiration / Materials
Thoughts and prayers
A glimpse in to the process of creating.
The process of creating starts with imagination, the flexibility of mind, with research, with reflecting on your self and the world around, a lot of experimenting and serendipity.
Art is in a way always a kind of autobiographic where you put something in from yourself, your memories, your reflection on time and how you experience it.
value Beyond the level of aesthetic
Art to consume with a prescription to understand, the handles to take you with me in my mind, my thoughts and prayers.
You can only understand, when knowing what lies behind it.
EXPERIENCE, Inspiration and process into a sustainable future
2020/2021 one last push off the cliff of the familiar, Ctrl+Alt+Del

The world changed, Covid 19 a pandemic what made us think, think about life, reflecting on our selfs and the world around.
For me it was a last push, a last push into a more sustainable way of living and exploring what nature feeds us with.
In art it ment to make choices, choices in rediscovering materials as wool, natural pigments and about working mostly with recycled materials.
This is the time to reflect on what step we are willing to take in climate action and human rights.
We can discuss about the consequences of a changing climate,
but we can't deny it.
A changing climate is nothing new to planet earth, but the fact is; we as humans made it worse, it's not a normal fluctuation in the millions of years anymore, it's a fast incoming reality that we can't avoid and is threatening human rights around the world
The impact of pollution, deforestation is enormous, a pandemic like Covid19 is directly linked to the way we live.
Plagues of insects will be more common by loss of biodiversity.
Responsibility
We are all responsible by our way of living.
We are all responsible for the diminishing biodiversity, from filling our gardens with stones, and intensive agriculture like soy production in Brazil which is contributing to deforestation of the Amazon rainforest, palm oil plantations on Borneo resulting in the threat of the orang-utan, intensive agriculture in The Netherlands with a direct impact on biodiversity.
We are all responsible for the plastic soup in our oceans, for all the waste in nature, for the microplastics that really found everywhere on this planet now.
We are all responsible for the outbreak of a pandemic like Covid19 through our intensive livestock farming, and the reduction of natural habitats.
There is an urgent need for change in policies that regulate not only the protection of the landscapes we love, but also the places where we live. Climate change / pollution has consequences for all those places, biodiversity is under pressure with all its consequences.
Are we willing to do our best in environmental protection and making our environment more resistant,
or do we let it go completely and only focus on combatting the consequences when it is actually too late?
Lets work together to a e future and work with planet earth instead of destroying our home?
We must be aware of our influence on the earth and the consequences, our responsibility for the future.
Where also human rights are under pressure, we can build it back better,
The changing climate, environmental issues like pollution disproportionately affects the world's most disadvantaged people – those who are the poorest are the most exposed and have the least resources to withstand climate shocks and stresses such as extreme weather events.
Children are the least responsible, yet they will bear the greatest burden of its impact, the changing climate and degraded environment.
Climate action that is not anchored in a human rights-based approach risks further violating human rights.
A 'sustainable future, a fair climate policy, climate justice its not only what you and I can do, it are the systems, patterns and connection that need change.
A fair climate policy is not only about the climate, its about human rights, the injustice we have to fight, where it's connected and rooted in (neo)colonialism, racism.
Human rights are continually under pressure, being attacked in all kind of ways.
We can't stand on the sideline and just watch, we have to speak out



(Recourses, Unicef, IPCC, UN)
I'm also interested in social dilemmas, the discomfort of human relations and sense insisting the viewer to look critically at themselves and their place in society, looking at the ways that social measures of success and security cause people to ignore others who are in need or problems we face in the name of self-preservation.
Art also has to reflect on the absurdity in society itself, sometimes absurdity is the most adaptive way of facing reality.
INSPIRATION in materials THROUGH AWARENESS OF THE NEED FOR CHANGE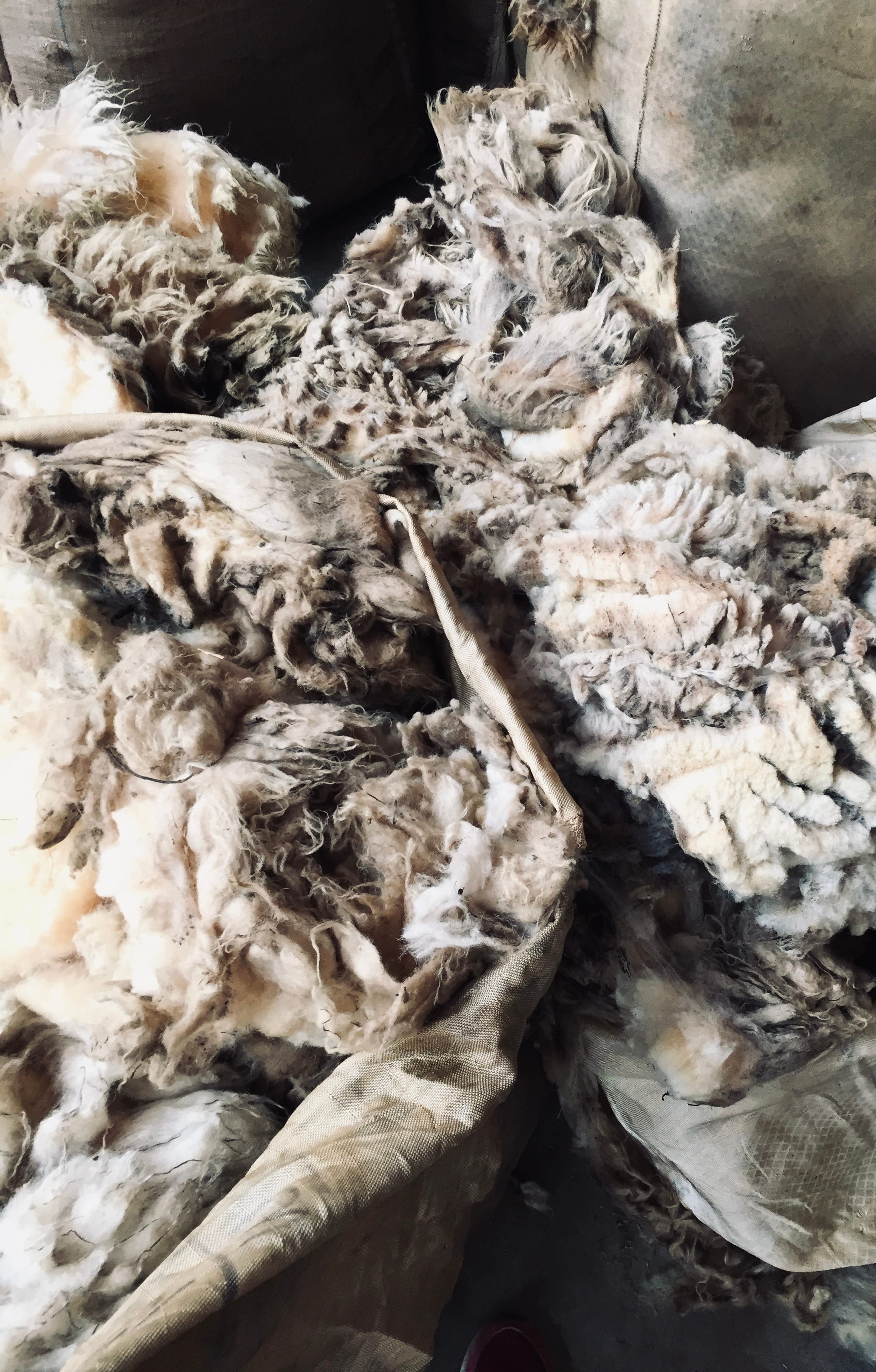 CLEANING, COLOURING, CARDING, FELTING AND SPINNING,
respect for materials and the process of making.
Wool and other natural materials,

Working with wool and other natural materials was inspired by and the awareness of the need for change and evoked memories,

I get my raw wool directly from a Shepherd who has graze his flock in the nature reserve Bargerveen (a heath and peat area in south-east Drenthe, the Netherlands, my home ground) In this way the nature reserve is maintained with respect and in a sustainable way.
The wool I use from his flock comes mainly from the Schoonebeker sheep, a rare breed of sheep that is mainly used for heath grazing in the region where I grew up just like the other wool I use from the Drents heath sheep, one of the oldest European breeds.
From sheep shearing to colouring all actions require patience and respect.
Collecting plants for natural pigments shows us the value of nature, how natural materials can be obtained in a sustainable way and shows respect for the potential that nature gives us where a more sustainable society is necessary.