art is about reflection and our perception of time and space what is framed by our thoughts.

Art is a way to stimulate self-reflection, to stimulate our perspective of time and space.
Thats why it is not only what do you get from my work as a viewer? but what do we create together.

We must look at our blind spots, the power structures, the patriarchal structures in our society.
I'm interested in social dilemmas, the discomfort of human relations and sense insisting the viewer to look critically at themselves and their place in society, looking at the ways that social measures of success and security cause people to ignore others who are in need or problems we face in the name of self-preservation.
Art has also has to reflect on the absurdity in society itself, sometimes absurdity is the most adaptive way of facing reality.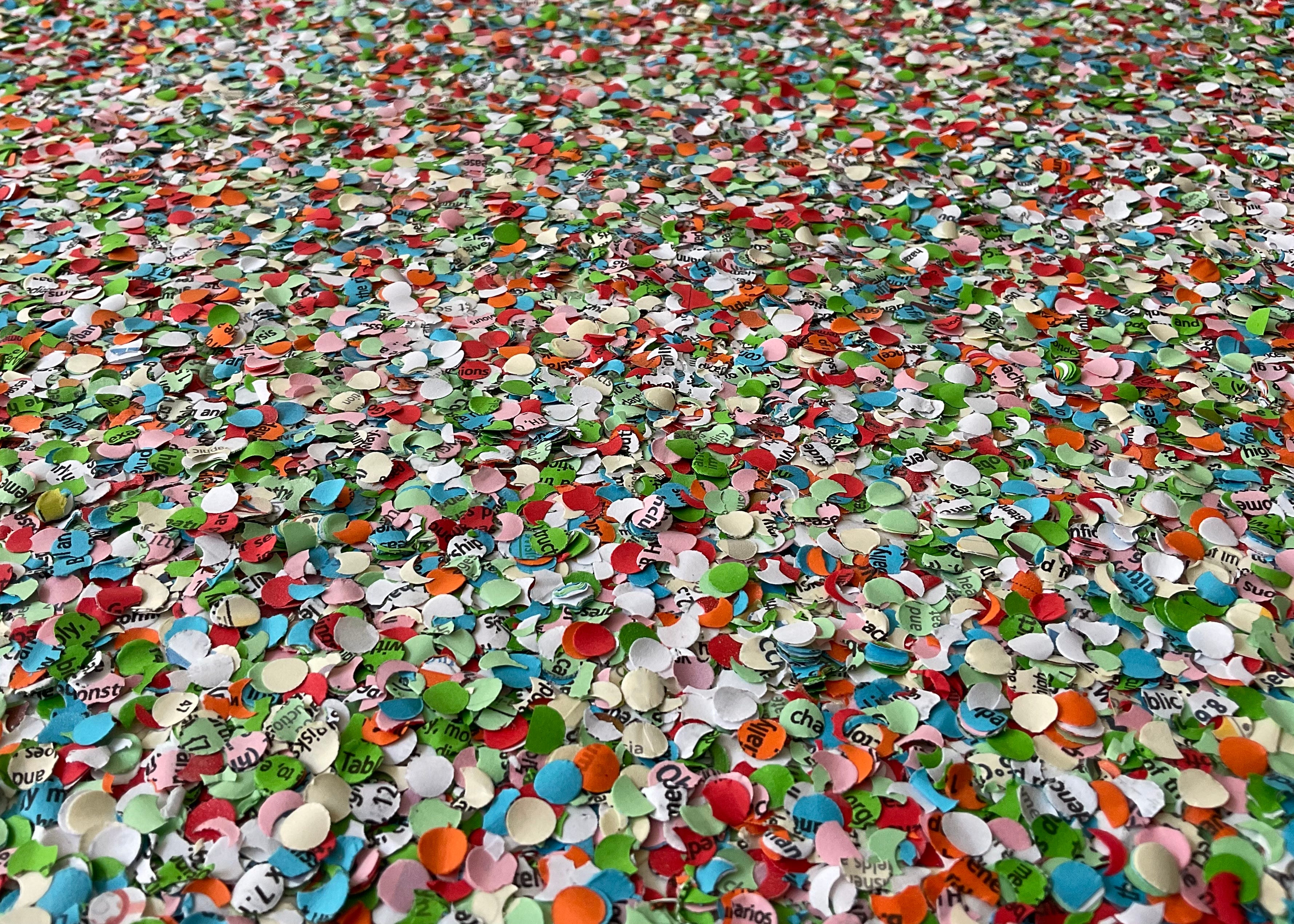 THERE'S AN ELEPHANT IN THE ROOM
Blossoms, the spring confetti drifting like snow through the streets, the sense of joy of spring dispelling the gray skies where winter seemed like an everlasting autumn.
a lack of sence of necessity
The winters are getting milder, the summers with more extremes drought, floodings, there is a party on the corner of the street, I remember the fuss in February about whether carnival could continue because of the covid pandemic, if there were no more important things at stake.
My thoughts melted my sense of joy, the new IPCC reports made a fresh new memory showing the lack of sense of necessity.
By the sweat of your brow you will eat your food until you return to the ground, since from it you were taken; for dust you are and to dust you will return." (Genesis 3:19)
THERE'S AN ELEPHANT IN THE ROOM
Printed and punched colored paper on white paper.
(printed with the Summaries of the Kyoto protocol 1997, the Paris climate agreement 2015 and the IPCC sixth assessment report of 2022)
3675 PAGES, the IPCC Sixth Assessment Report

The Guardian described the report as "its starkest warning yet" of "major inevitable and irreversible climate changes
The lack of sense of necessity, daily from 7-18 November 2022. UN Climate Change Conference 2022 (UNFCCC COP 27)
Where it all started 2012 - 2013
2012 FRAGMENTED SOCIETY 1
Where it all started in 2012, 110m2, Emmen the Netherlands.
2013 FRAGMENTED SOCIETY 2
Fragmented society 2

In the end of 2012 the organisation of the Elephant parade in Trier Germany contacted me to be part of this outdoor exhibition and auction in Trier Germany in 2013 to raise awareness for need of elephant welfare and conservation,

For this I made this work based on Fragmented society 1.

The orange shoaling fishes on the elephant are representing the people in our society who are very well connected trough social media by facebook, twitter, instagram, but at the same time more divided than ever and alone in our fragmented society.